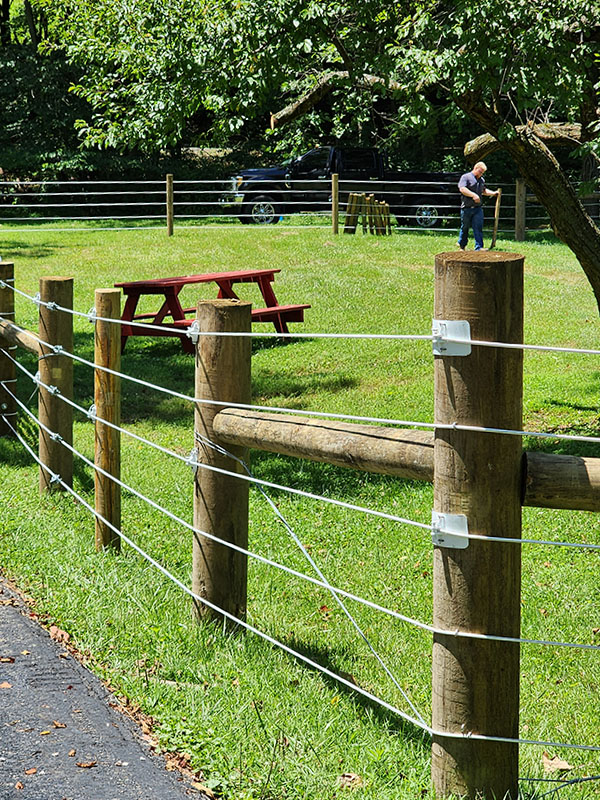 The farm fence experts at Double R Fence have a lifetime of experience in the farming industry, so we understand the range of fencing needs in Bloomington. Board fences, electric fences, high tensile fences, poly coat fences, woven wire fences, vinyl fences, chain link fences, and continuous paneling fences are the best fence types to consider. When you're looking for top-of-the-line agricultural fencing, we can guide your fence installation process from start to finish!
Whether you have a small amount of acreage or a large homestead or farm, a board rail fence is versatile and customizable, making them an ideal choice for securing livestock or surrounding homes on agricultural properties in Bloomington Indiana Board rail fences are designed to withstand the elements while maintaining their aesthetic appeal and can be installed alone or as part of a larger fencing system to provide maximum security for your animals.
An electric livestock fence offers several advantages for efficient and secure animal containment. It provides a strong deterrent, as the mild electric shock delivered upon contact encourages livestock to respect the boundaries, minimizing the risk of escapes. Electric fences are relatively easy to install and require fewer physical materials compared to traditional fences, making them a cost-effective solution.
High tensile fences offer several benefits that make them a popular choice for agricultural and farming applications. One of the primary advantages is their strength and durability. High tensile fences are constructed using steel wires with a higher tensile strength than traditional fences, allowing them to withstand significant pressure from larger livestock without losing their shape or integrity. Additionally, high tensile fences require less maintenance compared to other fencing options, as they are less prone to stretching and require fewer posts.
Poly coat fencing is specifically designed for horses and is engineered to provide maximum visibility and functionality. Poly coat fences are a version of high tensile fences that are coated in a material that makes them more visible to horses, preventing them from running into your fence. The high tensile wire can be electrified to create an additional deterrent for young or highly energetic horses. The poly coating enhances the fence's durability, providing resistance to rust, corrosion, and weathering, thereby ensuring a longer lifespan and reduced maintenance costs.
Chain link fences offer a versatile fencing solution for any property. A chain link fence offers a secure yet affordable option that comes with a variety of options. Choosing a PVC-coated chain link fence enhances the fence's durability, providing resistance against corrosion and the elements, ensuring a longer lifespan for agricultural applications. The addition of privacy slats not only enhances security by limiting visibility into the enclosed area but also contributes to a more controlled environment for livestock, making chain link fences with PVC coating and privacy slats an effective and adaptable choice for maintaining the privacy and security of both residential and agricultural properties.
Woven wire fences, crafted with precision and expertise, consist of vertical and horizontal wires woven together to form a robust mesh. This design ensures reliable containment, making it an ideal choice for livestock enclosures, agricultural fields, and property boundaries. The flexibility of woven wire fences adapts seamlessly to the terrain, providing a secure barrier that stands the test of time.
Continuous panel agricultural fencing, fromDouble R Fence, brings unparalleled benefits to modern farming practices. These seamlessly connected panels, often crafted from durable materials such as high-tensile steel, provide a steadfast and unbroken barrier for livestock and crop protection. The streamlined installation process, coupled with minimal maintenance requirements, ensures that our continuous panel fencing offers a cost-effective and efficient solution for farmers seeking durability, security, and ease of management on their agricultural properties.
A vinyl rail fence from Double R Fence is an attractive option that provides a wide range of benefits for farming applications in Bloomington Indiana. First and foremost, its durability and resistance to the elements make it an ideal choice for withstanding the rigors of agricultural environments. Vinyl rail fencing requires minimal maintenance, saving valuable time and resources while ensuring a long-lasting and attractive fencing solution.